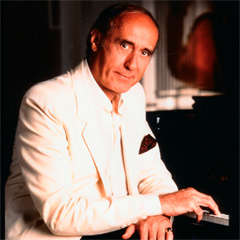 Henry Mancini was one of the most versatile talents in contemporary music. The Mancini name is synonymous with great motion picture and television music, fine recordings, and international concert performances. During his lifetime Mancini was nominated for 72 Grammy Awards, winning 20. He was nominated for 18 Academy Awards winning four, honored with a Golden Globe Award, and nominated for two Emmy Awards.
Mancini created many memorable film scores including Breakfast at Tiffany's, The Pink Panther, Days of Wine and Roses, Hatari!, Charade, Victor/Victoria, '10,' Darling Lili, Arabesque and The Glass Menagerie. He also wrote for a number of television films including The Thorn Birds and The Shadow Box as well as television themes including Peter Gunn, Mr. Lucky, NBC Election Hight Theme, Newhart, Remington Steele, and Hotel.  Mancini recorded over 90 albums with styles varying from big band to jazz to classical to pop, eight of which were certified gold by The Recording Industry Association of America.
Mancini was an in-demand concert performer conducting over 50 engagements a year, resulting in over 600 symphony performances. Among the symphony orchestras he conducted were the London Symphony Orchestra, the Israel Philharmonic, the Boston Pops, the Los Angeles Philharmonic and the Royal Philharmonic Orchestra.
Henry Mancini wrote two books: Sounds and Scores – A Practical Guide to Professional Orchestration, which can be found on the shelf of virtually every serious student of music, and his autobiography Did They Mention The Music?
Mancini's deep love of music and support of young musicians is evident in the scholarships and fellowships he established at top music schools. Many up and coming composers, conductors, and arrangers have benefited from Mancini programs at Frost, Juilliard, UCLA, USC, and at The American Federation of Music's Congress of Strings.
Henry Mancini died in 1994 and his wife Ginny Mancini, and their three children Chris, Monica and Felice, and two grandchildren Christopher and Luca, continue the Mancini legacy.
Excerpt from: www.henrymancini.com