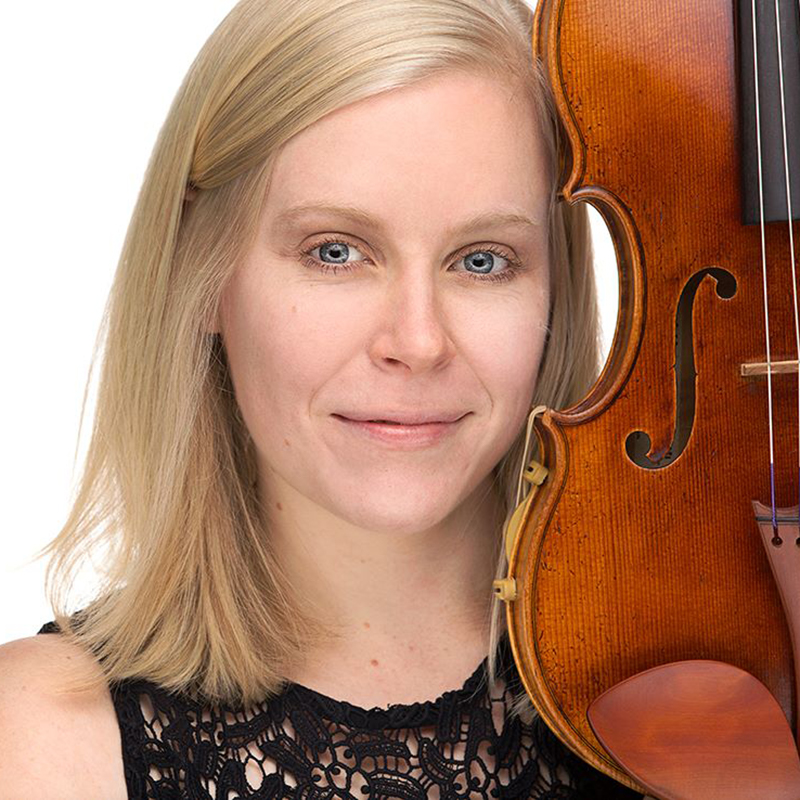 Angela Kratchmer Viola | HMI Fellow
Waverly, Iowa
DMA Viola Performance
A native of Iowa, violist Angela Kratchmer maintains an international career as a teacher, performer, and arts administrator. Committed to socially-motivated artistic practice, Kratchmer was selected to join the Global Leaders Program as a member of the 2018 Cohort and recently completed a certificate in social justice, teaching artistry, cultural agency, and social entrepreneurship with teaching artist residencies in Chile, Paraguay, and Tanzania.
An avid student of chamber music, Kratchmer has participated in coachings and masterclasses of the Juilliard, Ying, Brentano, Parker, and Avalon string quartets, with additional instruction from eminent chamber musicians such as Colin Carr, Violaine Melancon, and Kim Kashkashian. Kratchmer has performed in the viola sections of the Symphony of the Americas, Orchestra of the Southern Finger Lakes, Tri-City Opera, Berkeley Symphony Orchestra, Merced Symphony, Silicon Valley Philharmonic, and Symphony Napa Valley.
Before beginning graduate studies, Kratchmer was granted a fellowship with Orchestra Institute Napa Valley, a post-graduate program emphasizing performance, arts outreach, and professional development. As an OINV Fellow, Kratchmer was engaged in diverse teaching experiences, providing instruction in an El Sistema initiative, coaching the Napa Valley Youth Symphony, and developing curriculum for a Leonard Bernstein Artful Learning elementary school.
Since 2017, Kratchmer has served as the Artistic Administrator and Marketing Assistant for the International Music Festival of the Adriatic in Duino, Italy. Kratchmer holds degrees from Luther College (BA '13), the Eastman School of Music (MM '16), and is currently pursuing a DMA at the Frost School of Music at the University of Miami as a Henry Mancini Institute Fellow and Teaching Assistant to her teacher and mentor Jodi Levitz. Kratchmer's former teachers include Spencer Martin and Carol Rodland.